The Logic Manual
On this page you'll find various support materials to be used in conjunction with the Logic Manual. The publisher's web page for the book can be found here.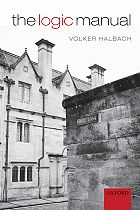 Note on the print version. The content of the print version differs only slighlty from those of the previous online versions. The only substantial change is the use of different Natural Deduction rules for the biconditional. The old online versions are no longer available.

The Exercises Booklet can be downloaded from here. For 2013/2014 there are no changes from the previous year. A version containing solution is available upon request for those teaching from the Manual.
Lecture slides
This year's logic lectures are being given by Dr. James Studd. Each week electronic copies of the slides will be posted below.
Note that the slides only cover selected definitions and techniques from the Logic Manual and are not comprehensive. They should be read in conjunction with the main text.
There are two versions for each lecture: a handout posted before the lecture (with some items left for students to complete during the lecture) and the lecture slides themselves posted after the lecture.
Examples
I have prepared some worked examples in pdf files. To open the pdf file for an example click on the claims below.
Partial truth tables


Natural Deduction proofs: propositional logic





Natural Deduction proofs: predidate logic





Natural Deduction proofs: predidate logic with identity



Sample papers
Sample paper, Michaelmas 2008 · solutions
Collection paper for Hilary 2009 · solutions and marking scheme
Sample paper (past paper from 2010)
Sample paper (past paper from 2010) · solutions
More examination papers are available from OXAM (restricted access).
For the revised examination rules from 2013, Gail Leckie has produced two "elementary and straightforward" questions together with solutions . They can be found on WebLearn (login required).
Note on typesetting
I have been asked how to typeset logic. The Logic Manual itself and all the auxiliary material have been written in LaTeX, which is a freely available programme. There are many web sites devoted to LaTeX. The page of the Mathematical Institute for LaTeX probably contains more than what you want to know. For Windows I recommend MikTeX.